Understanding the different types of life insurance policies can be tough. With so many options, how can you decide what is the best life insurance? Like many things in life, the answer isn't cut and dried. 
One thing is for sure: Life insurance can protect the people who depend on you if the worst should happen. Instead of worrying about how to pay the bills, the right life insurance policy can ease the financial burden for your loved ones after you're gone.
What is life insurance?
Life insurance is an agreement between you and an insurance company. The insurance company promises to pay a death benefit in exchange for your monthly payments.
Like most insurance policies, the purpose of life insurance is to protect against loss. While no one likes to think about their mortality, life insurance can make the transition into living life after you're gone easier for the people you leave behind. 
The payout can help to pay for funeral expenses, outstanding debt balances, and cover loss of income. Most importantly, life insurance can give you peace of mind. The monthly premium you pay now can go a long way to providing financially for your family after your death.
Types of life insurance coverage
Once you know a little about life insurance, understanding the different options gets easier. Before we start, just know there are two main types of insurance:
Term life – Covers you for a specific number of years
Permanent life – Lasts your entire lifetime
Term life insurance
Term life insurance gives you coverage for a set amount of time. You might get a policy that lasts 10, 20 or 30 years. If you die during the term, your beneficiaries get a death benefit from the insurance company.
It serves a single purpose of paying out a death benefit without any fuss. Your policy can cover the years you have the greatest financial need. Often, this is while you're raising children or paying off a mortgage or other debts.
If you're putting off buying insurance because of the cost, know that term insurance can be an affordable option for every budget. 
Permanent life insurance
While term life lasts a set number of years, permanent life insurance lasts your entire lifetime. There are different varieties to pick from, such as whole life, universal life, or variable life insurance.
Permanent insurance also builds cash value. The insurance company takes part of your premium and puts it in an investment account. This is one reason why a permanent policy is so much more expensive than term.
Which is better: term or permanent life insurance?
You might think permanent insurance is a better deal. Permanent life might sound good in theory, but term insurance is usually a much better option for families. 
A big selling point of permanent life is that it builds cash value. The life insurance company deposits a portion of your monthly premium into an investment account that can grow over time. 
However, the cash value investment of permanent life is one of the worst financial options out there. 
Consumer Reports ran the numbers. The average annual rate of return on a whole life guaranteed cash value policy was 1.5%, well below the typical rate of inflation (2.2% recently). Considering also that a typical permanent policy may cost 10 times as much as a term policy for the same coverage, and you'll see that permanent life isn't so great after all.
We believe that the purpose of life insurance is to protect your family against financial loss, not to build wealth. 
And that's exactly what term life does.
During the years when the financial loss would be greatest – when you're juggling child care expenses with a mortgage, car loans, and other payments – a term life insurance policy can protect your loved ones against financial hardship without breaking your budget.
How much does life insurance cost?
Life insurance is easier to buy than you might think. The cost of your premium can depend on your age, health, and lifestyle. A term policy can be quite affordable.
For example, let's look at what a policy would cost for Mary, a woman in her late 30s. Mary is a non-smoker with average health. She doesn't run marathons but she takes pretty good care of herself. 
She's married with a young child and earns $50,000 a year in income. However, Mary's financial needs will change over time. She will pay off her mortgage and student loans over the next 25 years. Meanwhile, her child will grow up and (eventually!) become self-sufficient. That is why we are recommending a 3 step plan for her: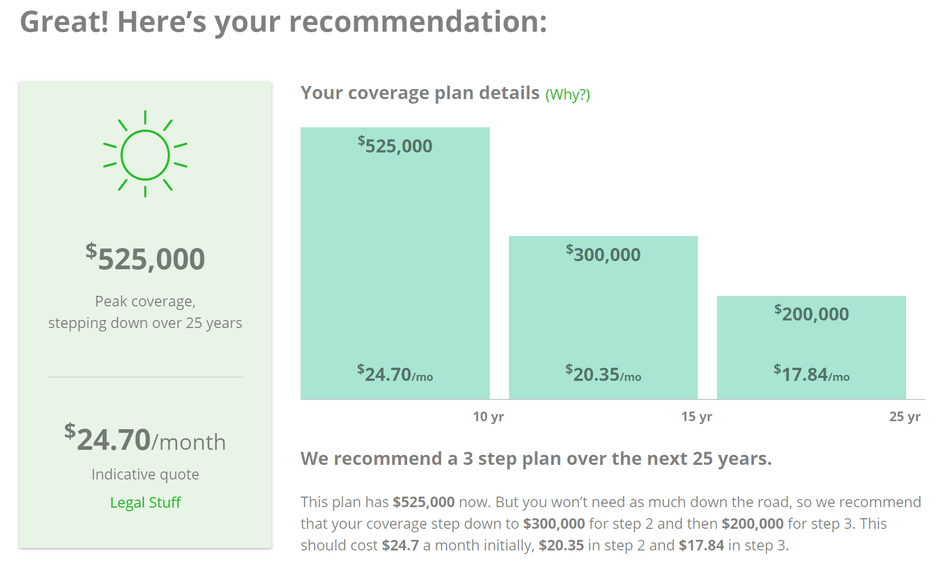 1. The policy starts out with $525,000 coverage and costs Mary $24.70 per month. At less than 1% of her income, Mary should find this quite affordable now, and the savings will increase as the plan adjusts to her changing needs. 
2. After 10 years, Mary's policy automatically adjusts to meet her updated coverage needs of $300,000 and her monthly premium drops to $20.35 per month. 
3. After 5 more years, it adjusts again, to $200,000 coverage, with her monthly payment dropping to $17.84 per month. 
Not only does Mary save money, but she also has peace of mind knowing her loved ones will be provided for if she passes away.
How much life insurance do you need?
The most challenging part of purchasing life insurance is deciding how much life insurance you should buy. You want a big enough policy to protect your loved ones, but you don't want to pay for more insurance than you need.
If you're not sure how much life insurance coverage you need, you can get a custom recommendation by answering a few simple questions. It only takes about three minutes, and you get an answer without having to share your contact information.
Your personalized plan includes a price quote, so you'll know exactly what to expect.
What is the best type of life insurance?
Most people have someone that relies on them financially. If you have a person in your life who counts on your income to pay the bills and put food on the table, life insurance can help you provide for them after you die.
Life insurance needs can vary from person to person. A term policy is the most cost-effective and is the best option for most people. The policies are also straightforward and easy to understand. 
If you're ready to get started, you can get a free term policy designed for your unique needs and a price quote in less than three minutes.